Key West Fishing Action is awesome.
Report Date: June 14, 2005
Key West Fishing in the month of June has been great. With the exception of one early tropical storm, I?ve had tremendous luck with Bonefish, Permit and Tarpon.

A long time customer of mine Eric Zipfel managed to fly cast his was into catching seven Bonefish and a couple of Tarpon on his most recent trip to Key West this June.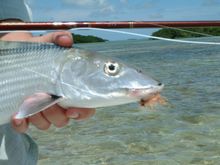 Eric Zipfels Bonefish on fly.

Last week a number of my customer had caught Permit and Tarpon on live fiddler crab using spinning tackle. The last few days I had found my self-back on the hunt for those elusive Bonefish. The wind is calm and the sun is hot and the fishing in Key West is smoking!

Give me a call and I?ll get you out there chasing your chance at a grand slam.