Permit Fishing With Dad In Key West.
Report Date: February 23, 2005
It is always special when my Dad comes to town for a few days of fishing. Unfortunately, for the past 3 years the weather has not cooperated. When Dad arrived on February 6th, I was afraid the weather would again be our enemy. How wrong I was!

My father and I first fished the Marquesas in 1982. It was love at first sight for both of us. In 1982, I was just an 8-year old lad, but I still realized it was in a special place. Today, the Marquesas are as beautiful as ever, and may be the most pristine location in our great country.

For 4-days, Dad and I fished the Marqueses under crystal clear skies and near perfect wind conditions. Leaving the dock at 7:00 AM, and not returning until 6:00 PM, if daylight would have allowed, we would have stayed later. The fishing was wonderful.

Each day there were sharks everywhere. Some as long as 9 Feet, weighing 200 plus pounds. The Cuda fishing was the best I have experienced as a guide in the past 4 years. The Cuda?s did not simply eat the ?bright green? tube lures (Dad?s idea), they devoured them. If we had been Cuda fishing, we could have boated 20-25 Cuda each day.
The Sharks were equally aggressive. In fact, Dad had to fend off the sharks when I was attempting to revive a 20-pound class Cuda. They were everywhere. There were a number of Tarpon around, but of course, we did not even search for the silver kings. We were on a mission for Permit.

The Permit fishing was wonderful. Dad boated 7 Permit in 4-days, landing 3 in one day.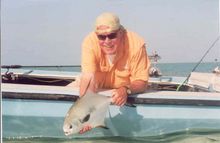 J. Michael Leonard Takes A Knee to release Another Permit.

Of course, once they were hooked, they were his. I can?t remember Dad every losing a Permit once it was hooked. We would have had many more, but the Permit that were simply hanging out in the numerous puddles that surround the Marquesas Flats simply would not eat. On 6 separate occasions, we had Permit swim up to our crab, and each time rejected the morsel. One swam around Dad?s crab for what seemed to be minutes, but continued to refuse the bait. Frustrating, but that is Permit fishing.

Dad is heading back to Ohio today with more wonderful memories. Of course, I wish he could stay, but he will be back. The Permit are happy he is leaving.


Happy Birthday Stephanie!
You want to go fishing?