Barracuda fishing in Key West
Report Date: February 11, 2005
Carter and his lovely wife Connie had a few great days of fishing once again down hear in Key West. We caught at least 10 Barracuda and had chances at 30 others.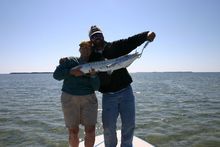 Connie takes charge and lands yet another Barracuda!

Skinny water Barracuda fishing can often be some of the greatest action on could ever see on the flats. When conditions are right these Barracuda slide up into about a foot of water. Your cast has to be accurate and your presentations has to be quiet, and when you can do all of those thing you end up with one heck of a day on the water as Connie and Carter figured out. As a guide I love Barracuda fishing on the flats. In fact that is one of the single most reasons that I am doing what I am doing today. Because when I was eleven a was mesmerized by the speed of the attack and the force of the strike that these Barracuda have. Guess what I still love this fishing just as much today as I did when I was eleven. And having great fiend and clients like Connie and Carter Melton I do believe I still have the best job in the world.

Thanks you Connie and Carter I loved fishing with you!