Key West Fishing For Permit!
Report Date: October 5, 2004
After a long month of running from hurricanes I am back to fishing. I have yet to take my hurricane shutters down in hops that if I leave them up there will be no need for them. The weatherman stated that for the first time in almost 6 weeks there are no named storms in the Atlantic Ocean.

The fishing has been good for the last few days. My Permit have shown up in a few spots with a bit of consistency as they do this time of year. Fiddler crabs or Merkin patters will do the trick on these guys in most cases.

A customer of mine landed a forty-pound Permit the other day. This monster was happy to jump on a crab once we got the crab in his sight. This Permit we caught was one of many in a large school.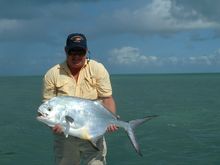 Jack Olbrych holds a hefty 40lbs Permit



We had also seen a number of Tarpon on this same day, however, we had a great deal of wind to deal with, so they where not to eager to eat. The Sharks where also on the prowl, showing up in great number in search of food.

The tropical out look seems pretty good, so with any luck the fishing should just keep getting better.

Keep in mind Key West was one of the few places to not get hit during the hurricane, so the town and the businesses are running at full operation, contrary to many of the other Florida destinations.

Now booking spring Tarpon dates.