Key West Fishing Out Look For Mid May.
Report Date: May 18, 2004
Well May Turned out to be a fairly wind month thus far. The Tarpon have showed up, however, fishing them has been another story. Average wind of 25 knots or better has proven to be a little less than desirable for fishing.

But not getting to discouraged we have tried to make the best of it. On most occasions bait fishing has ended up being the only alternate fro most of my fly rudders. Jumping a few fish on the good days and unfortunately coming up short on the bad days.

I did manage to find a few Permit on the flat. They have seemed to come back strong after their short jaunt out to the reef and or wrecks to do their spawning.

The big Bull Sharks are still around and there have been a few more Bones to throw at on any given day. So on average the fishing has been pretty good.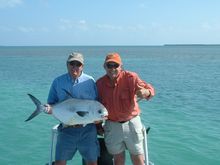 Rod and Clark give thumbs up on Permit Fishing



Clark and Rod made it down from Nevada again this year and they came up short on the Tarpon, however, Rod, did manage to get a large Permit.

Give me a call for the latest fishing report or to book some summer dates!