Flats Fishing-Fly Fishing-Light Tackle Fishing-Book Your Fishing Dates
Report Date: December 5, 2003
Get your Tarpon fishing dates booked. Spring and summer dates are going quick.
Whether you're Fly-fishing or light tackle fishing I can put you on the fish.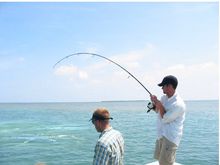 Patience pays only 45 minutes and counting on this Tarpon

Jump Tarpon throw crabs or flies at Permit, chase them Bones. Flats fishing in Key West. Florida. Just Do it!

Lets Go Fish!