Key West tarpon.
Report Date: May 26, 2008
Fishing in Key West . Tarpon-that is the buzz around town these days if you are at all in touch with the fishing community. The wind has been a factor, however, the tarpon are here. The migratory tarpon which cruise the ocean side and many of these tarpon setting up residence in the bays and basins and creeks or channels that surround the flats to the west and east of Key West, Fl. I fished the last 27 days and due to storms and rain, have achieved a day off. So what better way to spend a day off then rigging fly tackle, and spinning tackle that the tarpon have done their very best to destroyed over the last several days.

Good friend and customer of mine Bill Williams spent several days on the flats with me this month. We managed to jump many more fish than we ever got to the boat.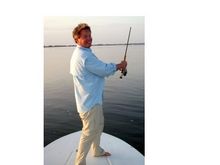 a closer look reveals a broken fly rod, the fish was fought on the section of rod that was left until the leader was destroyed and the tarpon was released.

We even managed to break a 10wt fly rod on a 100lb tarpon. The odds where not in favor of this rod, however, to the best of my knowledge it was the only fly pole left on the boat that had a fly tied on and ready to cast. We entered a tarpon feeding frenzy, whereas the tarpon where feeding on little tiny pilchards (bait fish). So as long as the fly was moving with some sort of flashy material tied in the fly, they were going to eat the fly. It is not common to encounter this, however, when it does happen, you can believe your are in for some amazing action. On times like this feeding bonanza itís not uncommon to jump ten or twenty tarpon in a session.

There are still plenty of permit around, although during the 4 days prior and 4 days after the full moon I had not seen as many, but since then the numbers have double. I have not fished for them, yet I see these elusive fish wandering around the flat as we search for the silver king.

I hooked a couple of bonefish last week. Just for fun, I was curious to see if they were still hanging around a particular flat, and as luck would have it they where there. As a rule unless the customers has a special request, I donít target the bonefish until late June or July. Not because they are not available, it just that most people want to get after the tarpon. In my opinion if youíre out on the water fishing, and having a good time, whatís the difference what youíre fishing for as long as you are having a good time. That is what makes the game so terrific. As long as youíre playing the game and are having a good time doing this, than just keep fishing