Bonefishing Key West.
Report Date: September 12, 2007
September fishing in Key West. Some say itís to hot, I say shut up and fish. The one thing I do know about the late summer fishing is some days the fishing is red hot other days its not. Not always as consistent as you may like. However, there are normally some Bonefish around and a few Tarpon in the morning and maybe even some Permit. I love this time of year down here in Key West, there planet is your to go and fish where you want.

I spent a few days fishing with good customer of mine and his brother in law who caught his fist Permit. This was a tailing fish caught on a crab and to say the very least, Danny was very excited about this. Eric caught a few Bonefish, and we found some Tarpon, however, never could get a bight.

My next few days where spent with Maurice. We found some tough fishing conditions and even fewer fish, however, on the last day of fishing with Maurice he managed to feed a Bonefish a custom tied fly. This fish was found tailing along with many others, somewhere off Key West. This fish he caught was around 12 or 13lbs and 37.5 inches long. A huge Bonefish to be caught on a fly rod.

So as you might expect I spent the last few evening chasing these tailing Bonefish with Izabela and she had some great success.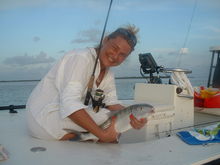 Izabela's first Bonefish.

She caught her fist Bonefish that was tailing near the boat. I was off wading the flat in search of more fish, however, who is the one that caught a fish.

Check it out Keys Bonefishing.