Permit on Fly and Monster Jacks!
Report Date: January 21, 2007
Fishing is off to a great new start for 2007. The weather has been unusually warm, so the Tarpon are around and even a few Bonefish scattered around the flats. Permit fishing, well you know how that can go, some days they are everywhere other days they are no where. A customer of mine did, however, have the great fortune of catching one on fly the other day.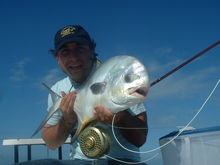 Nice! First Permit on Fly

This was his first Permit taken on a fly rod. We saw only a couple of Permit that day and caught one. Not a bad average for fly fishing Permit.

We opted today for creek fishing, due to high wind, and not so clear water. However, we had great action and much success catching monster Jack Crevaille. Jon a client landed one Jack Crevaille that had to tip the scales at 20lbs or better. Looking back I would say the largest landed on my boat to this date.

The Barracuda fishing has been steady and of course those monster Bull Sharks are lurking about as well as those drag smoking Black tip Sharks. Plenty off great fishing action to be had while fishing down here in Key West.